Amazing Dinner….
I might skip due to give a car back. We got up at 12:50pm and got ready for leaving here for National by 13:30. We made da oil tank full near here. After returning I went shopping separately till 7:30pm when NBA Game 3 will start second half. I made a promise t meet'em at da former same bar where we watched Game 2 two nights ago.
As June 16 is Misa's birthday, I sought da gift w/ Riku. After several stores I reached Sears, like mall, and bought a fashionable sunglass and its paper box. I shored money w/ him to get a scale for Heuy and a maple syrup for Keiko. Privately, I bought a mug cup, a shot glass and a ring for me. I purchased a neck less for Misa and da same shape of ring for Keiko. It was in da Gastown that I got'em. Thai is, I took a long walk to there. I spent much time thinking what to present to them. The main point is a gift reminding people of Vancouver, BC. Thus my two cups are printed by da logo "Vancouver." I'll keep collecting these two cups, mug and shot. Whenever I visit da new place, I'd purchase'em. This summer I'll get three and more kinds of mugs/shots, Paris, Rome, Barcelona, and more. I look forward to them.
Another concern is how I can record pictures. Now I have a digital camera using 64 MB recording chip. I can take 190 pictures w/ it if I keep setting up da same size photo. This five-day trip spent whole pictures in only four days. How's Europe Journey going? How much do I need da amount of chip? The 256 MB would be enough, which is four times as much as 64. 256 MB means I can take approximately 760 pictures. Both 64 and 256 will produce 950 pictures which would be enough for the three-week journey. The other I need is the object changing da shape of outlet. There is da difference between US and most European countries. It's like a line or a circle.
I'm not sure which the best place to buy such a chip is, here or Portland. I can purchase it for $49- w/out tax. I didn't do that at least today. I'd buy 256 MB chip at Portland before the journey.
Once I was back to da hotel w/ some souvenirs, it's just NBA Game 3 beginning at Detroit. After first period Spurs was winning 27 to 21. However, second half brought da period occupied by Pistons. Finally they guys grabbed da first victory at home. I hope Spurs beat them only once at load. It'd be enough. I went to that bar along Robson st to get there by 7:30pm.
To my surprise, there were few customers at weekday nite. I watched da game w/ a bottle of Heineken. During da game I played da billiard three times. After an unhappy result of games I ate real Japanese-Chinese noodle, Ramen at Ezogiku based on Takadanobaba, Tokyo. It was da first time to eat it abroad in a few months. Although we waited for Ramen for more than half an hour, it was more delicious than I expected. That made me stuffed.
When I was back to da hotel again, I took a bath and packed my stuffs for tmrrw's departure. I gain da two- straight-night own bed cuz I won da game. I fell in a sleep. Thinking about returning to Portland, I miss Vancouver.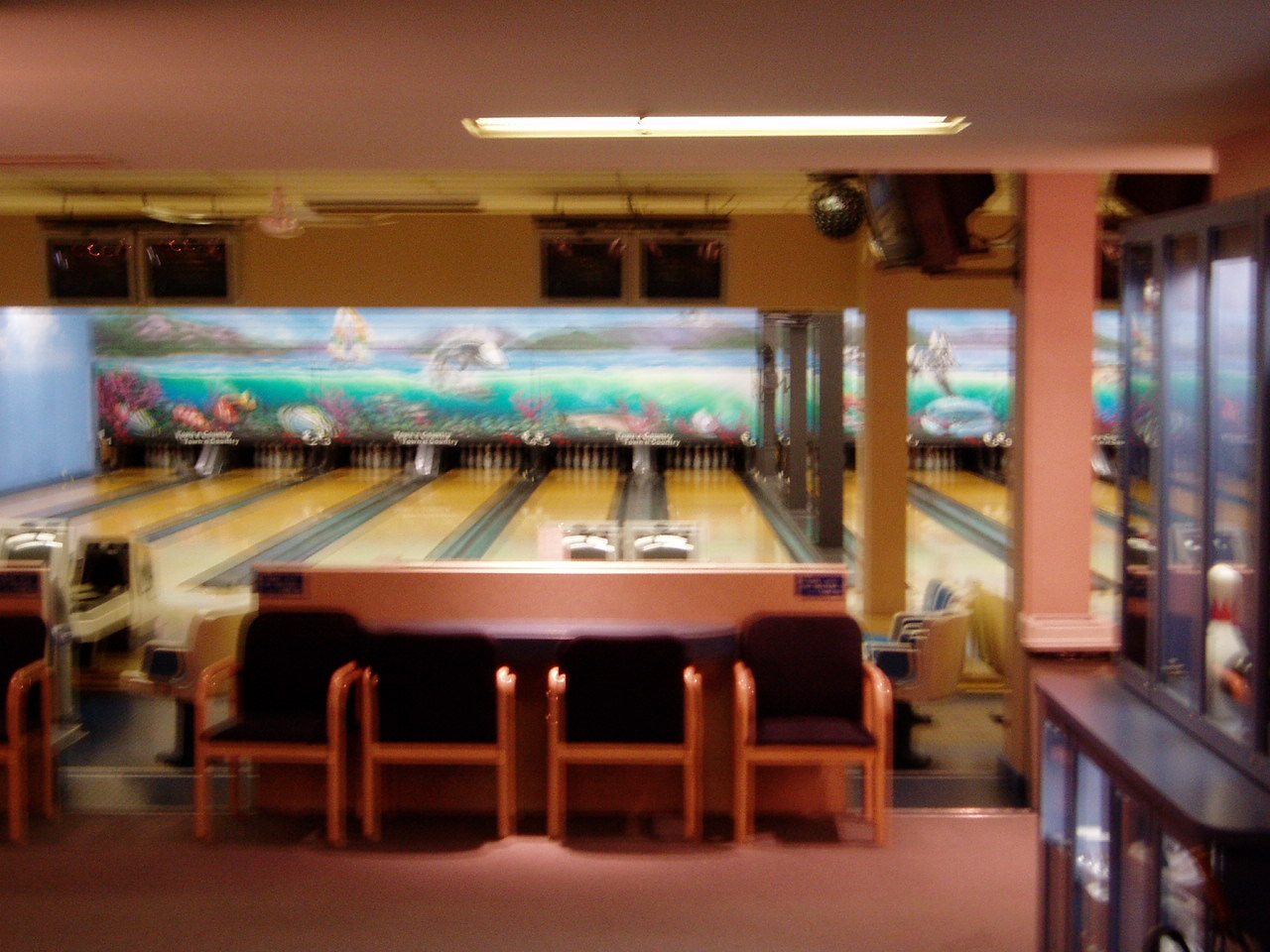 VACでは人気のないボーリング場・・・、こぞっているのはアジア人のみ。
  by tkpsu | 2005-06-14 19:30 | @Vancouver June '05