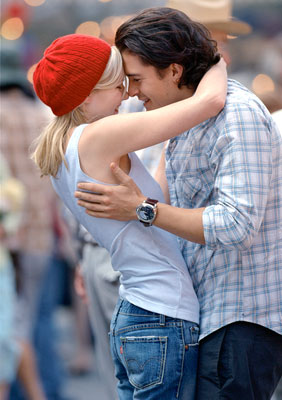 For the first time, I went to the theater to watch a movie in a couple months, since I watched the Howl's Moving Castle. Elizabethtown is the first movie to impress me w/ a sound, specifically BGM. I really enjoyed how the background music was working, as well as its story was. I'd like to have its DVD as soon as it will be sold.
I wanna go and watch Japanese movie. Watching The Same Moon will be the first to do that in Japan. Its main actor is Yosuke Kuboduka, one of the favorite actors. His impressive movie was Go I watched by myself, lol. His acting is perfect to make all audience fallen in his territory, fan.
I'm gonna watch weekly movie from now on. By the way, another I wanna do rite before going home is to get jeans of Abercrombie & Fitch located in down town. I'll apologize to parents for spending more money except for school fee. Mom said last week that I'd better have some souvenirs, like PSU sweat trainer and Blazers one before 42-day-later departure.
<訳文>
久々の日本語です。英語ばっかりのブログでごめんなさい。
今日は久しぶりに映画見に行った。
名前も知らないし、どんな内容で、誰が出るのかも知らないで映画館へ足を運んだのは初めてだった。
【エリザベスタウン(11・12公開予定) オフィシャルサイト (
米
・
日
)・
レビュー
】
主演;オーランド・ブルーム(代表作品;キングダムオブヘブン、ロードオブザリング)、キルステン・ダンスト(同;スパイダーマン)
ピュアラブストーリーに相応しいBGMに圧倒された。
このサントラとDVDは買うと思う。
日本の皆さん、必見ですよ。いや必聴です♪
挫折したことはありますか?
  ▲ by tkpsu | 2005-10-29 12:20 | @Portland